St. John Chrysostom Greek Orthodox Church of Martin County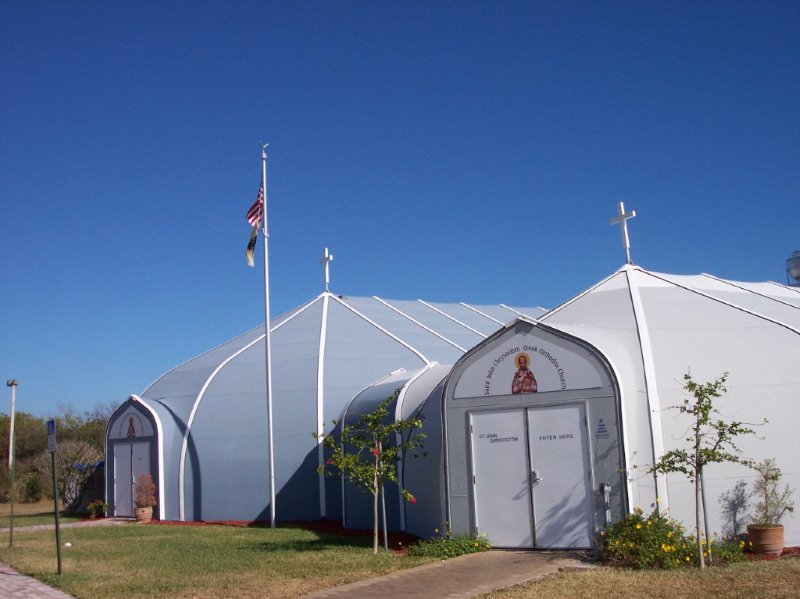 "Welcome one another, therefore, just as Christ has welcomed you, for the glory of God." - Romans 15:7
Through this web site, we are pleased to be able to introduce you to that same worship and fellowship as it is expressed in the life of our Parish. If you are a new member of our parish, or are considering membership, these web pages will acquaint you with what our parish offers to those who give it support and sustenance; to those who already belong to the church, we hope they will provide you with the assurance that your sacrificial offerings are received with profound respect, and are utilized to maximum effectiveness. They will, in any case, enable you to make the informed decisions that are necessary for a meaningful relationship with your church!
Please Note:
"The St. John Chrysostom Community Hall and related facilities are owned and operated as an integral part of the ministries of St. John Chrysostom Greek Orthodox Church, and are subject to the traditions, dogmas and Holy Canons of the Greek Orthodox Faith. We reserve the right to reject any request for the use of any such facilities. In addition, any uses that violate any applicable laws, ordinances, regulations or statutes are expressly prohibited."

Want to know where the Atlanta Metropolis is going next? Check out the Strategic Plan presented at the Clergy Laity Assembly in Columbia, SC this past June. Atlanta Metropolis Strategic Plan
And to follow the progress of the Atlanta Metropolis Strategic Plan please visit:
SATURDAY VESPERS
There will be Vespers Saturday, December 5th at St. Nicholas for the Feast of St. Nicholas .
2015 NAME DAY DINNER/DANCE SUCESSFUL
Thank you to all the 80 plus Parishioners who attended the dinner / dance to celebrate the Feast of St. John Chrysostom!
Good food, good music and great fellowship!
CATECHETICAL (SUNDAY) SCHOOL UPDATE
This week our Sunday School classes will be taught by:
Pre-School, K and 1 (Presbytera Tara)
Grades 2-5 (Evelyn Lefco)
Middle School Grades 6-8 (Jodie Reams)
High School (taught by Fr. Gregory)
A sign-up sheet for teachers will be available after Liturgy. Please contact Jodie Reams to volunteer to help out with teaching our youth!
COMMUNITY CHRISTMAS CARD
St. John's will again send our annual Christmas Card to parishioners and friends of the parish. Please help sponsor this important ministry with a donation to offset the costs of mailing. A form is available in the Narthex to include your family, or, see Connie Monsma. Thank you in advance for your generous support.
ARCHANGEL MICHAEL HONOREES
"Well done, good and faithful servant." Matthew 25:21
Each year, every parish of the Metropolis of Atlanta is asked to select two parishioners who 'exemplify the true Orthodox Christian way of life by their deep faith, commitment, dedication, and service to the Church and our Lord Jesus Christ on the parish level."
St. John's honorees this year are:
Posie Pappas and Alexia Sofikitis
CHRISTMAS TREE LOT!
We are pleased to again host Mr. Emory Parks, owner of Green Dollar Sod, and one of our neighbors here in Hobe Sound, as he and his family offer Christmas Trees for sale on the front of our property. Please offer him and all who visit our hospitality… and, please let your friends know!
PARISH COUNCIL ELECTIONS
We will have our Parish Council elections Sunday, December 6th following the Divine Liturgy. Please make every effort to attend this very important event!
CHRISTMAS BAKE SALE
Buy your pastries for the Holidays!
St. John's is having a 'Greek Pastry Bake Sale' on Saturday, December 12 from 10 am – 3 pm. Please see Connie Monsmas or Phyllis Stephanie King to volunteer to bake and the hours you can work. And, be sure to come by on the 12th and pick up some delicious treats!
COMMUNITY CHRISTMAS LUNCH!
Please make plans to join us on Sunday, December 27 for a Community Christmas Lunch. The lunch will take place following Divine Liturgy. More details to follow!
PHILOPTOCHOS
The first meeting for the upcoming year was held on Saturday, September 26. Please stay tuned for the next meeting.
We welcome all women from our Parish to join our Philoptochos. We welcome new ideas to help establish a successful Philanthropic Philoptochos at St. John Chrysostom.
GREEK DANCING
We are excited to start another year of Greek Dancing. Practices are usually held on Sundays, following Sunday School.
READER'S MINISTRY
We will have a sign up sheet in the Narthex for those in our community who would like to learn to read/intone the Epistle, in either Greek or English. Please contact Fr. Gregory to sign up!
PROSFORA MINISTRY
This week's prosfora is lovingly offered by Barbara Livadas-Fript.
We are in need of prosfora bakers! Please sign up for a Sunday to provide the prosforo for our parish. If you would like to learn to bake prosfora, please contact Fr. Gregory to arrange a lesson.
COMMUNITY DIRECTORY
Our directory has arrived!
We will continue distributing the directories to all families who participated by having their portraits taken after Liturgy this Sunday. Thank you to everyone who participated in this amazing project!
PLENTIFUL HARVEST MINISTRY
Our next opportunity to serve will be Tuesday, December 15, 6 pm. Please prayerfully consider helping to cook or to serve, and becoming a part of this life-affirming Ministry!
As a gentle reminder, we are still collecting food goods (boxed and canned) in the box in our coffee hour service area!
GREEK SCHOOL
Greek School has begun!
Please contact Evi Deslis if you have any questions.
Phone: (720) 840-1368
Email: edeslis@gmail.com
2016 ST. JOHN CHRYSOSTOM ORATORICAL FESTIVAL
Topics, Tips & Resources are now available!
Introduced in 1983, the St. John Chrysostom Oratorical Festival provides Greek Orthodox teenagers the opportunity to write and talk about their faith. The Oratorical Festival Program begins at the parish level and is divided into three divisions:
Elementary Division (local festival only) for students in grades 4–6
Junior Division for students in grades 7–9
Senior Division for student in grades 10–12
For more information, please see Chairperson Maggy Tsouchlis or Fr. Gregory.
2015 ST. PHOTIOS SHRINE ESSAY CONTEST
An invitation to ALL HIGH SCHOOL STUDENTS!
St. Photios Greek Orthodox National Shrine invites all High School Students to participate in the 11th Annual Essay Contest. In your 1,000 word essay, you will compare and contrast the immigrant story of one of the Greek colonists who came to America in 1768 and a person you know – a family member or a friend of the family. Certificates of participation will be sent to all participants and the top three ranked essayists will receive:
First Prize $500
Second Prize $250
Third Prize $100
For more information, please see Fr. Gregory.
GOYA NEWS
District Retreat – "Training Camp" - was well atteded by our GOYA on September 26 at
St. Andrew, Kendall (S. Miami)


STEWARDSHIP OFFERINGS
Thank you to those who have offered their pledge cards for this year! If you have not, we humbly ask you to offer your 2015 stewardship.
As of November 6th, we have a total of 74 Stewards who have committed for a total of:
$78,500!
MARK YOUR CALENDARS / SAVE THE DATES
Wednesday, December 2 - 7 pm
PC Nominee Training
St. Catherine's, WPB
Sunday, December 6
Parish Council Elections
Saturday, December 12
Christmas Bake Sale, 10 am - 3 pm
Sunday, December 20
Christmas Pageant
Sunday, December 27
Community Christmas Lunch
Thursday, December 31
AHEPA 2016 New Year's Eve Dinner/Dance
PARISH COUNCIL NOMINEE TRAINING SESSION
There will a Parish Council Training Session on Wednesday evening, December 2 at 7:00 pm at St. Catherine's in West Palm Beach. This training session is mandatory for anyone seeking to run for our Parish Council in this year's election.
YOUR PARISH COUNCIL OFFICERS
We are pleased to announce the Officers of our 2015 Parish Council:
President - Steve Pappas
Vice President - Perry Bakas
Treasurer - Mary Parasco
Secretary - Mike Menexis
Financial Secretary - Currently Vacant
Bible Study
Please check with Fr. Gregory for scheduling of Bible Studies.
Enhancing our Liturgical Life:
St. John's offers Saturday Evening Vespers at 5:00 pm. Last Great Vespers for the Summer, Saturday, 5/30
This beautiful worship service marks the beginning of the 'Lord's Day' with the setting of the sun, and sets our hearts on a path of prayer and preparation for the coming of the Divine Liturgy which follows after the 'Son' rises!
Services Schedule
We encourage you to attend services with us each Sunday:
Orthros - 9 AM - 10 AM
Divine Liturgy - 10 AM - 11:30 AM
Youth Sunday School dismisses after Holy Communion.
Join us after services for our Agape Hour where we would love to meet you!
With fear of God, faith and love, draw near!
Announcements
SATURDAY VESPERS have resumed, St. John's Vespers are usually held Saturdays at 5:00 pm
Greek School and Sunday School are seeking Teachers. Please contact Evi Deslis for Greek School at 720-840-1368
Please contact Connie Monsma for Sunday School at 772-263-6764
---

View our online weekly parish bulletin

Shop the Orthodox Marketplace

Share the Orthodox Christian Faith with an Iconogram