St. John Chrysostom Greek Orthodox Church of Martin County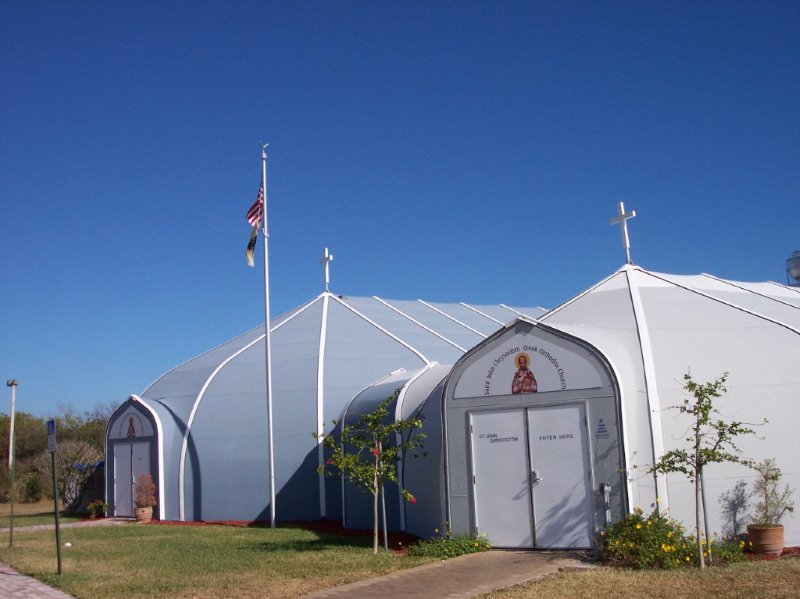 HAPPY BLESSED NEW YEAR!
St. JOHN'S 15TH ANNUAL DINNER DANCE
January 26, 2019 Miles Grant Country Club
Donation: $65.00 per person
For Reservations contact:
Kathy Coury or Connie Monsma
kathycoury@aol.com 772-215-3881 connie_monsma@hotmail.com 772-263-6764
Mark Your Calenders for Upcoming Greek Food Mini Fest
February 22 & 23, Friday and Saturday
Liturgical Services / Events –
January
ALL SUNDAY SERVICES:
9:00 AM—11:30 AM.
January 20— 12th Sunday of Luke
January 27— 15th Sunday of Luke
Wednesday January 30—- The Three Hierarchs
Divine Liturgy 9:00 AM– 11:15 AM
JANUARY 26— ST. JOHN'S DINNER DANCE
February 22 & 23 - Greek Food mini Fest
FELLOWSHIP HOUR: The Fellowship Hour is a continuation of the Christian Fellowship experienced in the Eucharist during the Divine Liturgy. It is a wonderful way to commemorate an anniversary, birthday, family milestone, memorial, or just to donate to the Fellowship Hour. If you would like to donate please see Stephanie King or sign up on the calendar. Thank You.
CONGRATULATIONS TO JOHN TSOUCHLIS AND HIS GRANDSON ALEXANDER SUMMERS FOR BEING CHOSEN FOR THE SAINT MICHAEL THE ARCHANGEL AWARD THIS YEAR!
"Welcome one another, therefore, just as Christ has welcomed you, for the glory of God." - Romans 15:7
Through this web site, we are pleased to be able to introduce you to that same worship and fellowship as it is expressed in the life of our Parish. If you are a new member of our parish, or are considering membership, these web pages will acquaint you with what our parish offers to those who give it support and sustenance; to those who already belong to the church, we hope they will provide you with the assurance that your sacrificial offerings are received with profound respect, and are utilized to maximum effectiveness. They will, in any case, enable you to make the informed decisions that are necessary for a meaningful relationship with your church!
Please Note:
"The St. John Chrysostom Community Hall and related facilities are owned and operated as an integral part of the ministries of St. John Chrysostom Greek Orthodox Church, and are subject to the traditions, dogmas and Holy Canons of the Greek Orthodox Faith. We reserve the right to reject any request for the use of any such facilities. In addition, any uses that violate any applicable laws, ordinances, regulations or statutes are expressly prohibited."

Want to know where the Atlanta Metropolis is going next? Check out the Strategic Plan presented at the Clergy Laity Assembly in Columbia, SC this past June. Atlanta Metropolis Strategic Plan
And to follow the progress of the Atlanta Metropolis Strategic Plan please visit:
______________________________________________________________________________________________
ST. JOHN'S NEWS&ANNOUNCEMENTS
_____________________________________________________________________________________________________________________________
SUNDAY SERVICES ARE FROM 9 AM TO 11:15 AM
PHILOPTOCHOS
Next meeting scheduled TBD
Plentiful Harvest Ministry LAHIA
Please join in on serving in the near future.
Thank you to everyone that cooks, transports and serves our less fortunate neighbors at LAHIA. May God bless you all for the service you offer!
Catechism/Sunday School
Classes will begin after receiving Holy Communion.
Blessings& Backpacks
Our Philoptochos is participating in the 'Blessings & Backpacks' ministry. Every Friday, volenteers from St. John's will meet to pack food for the weekend into backpacks for 35 students at Hobe Sound Elementary School every weekend. Please see Connie Monsma or Diana Palaskas to offer your time to this worthwhile ministry.
UPCOMING EVENTS
St. John's Dinner Dance, TBD
St. John's Festival 2019, TBD
HOUSE BLESSINGS
Please call Church office to schedule
*******************************************************************************************************
YOUR PARISH COUNCIL OFFICERS
We are pleased to announce the Officers of our 2018 Parish Council:
President - Constance (Connie) Monsma
Vice President - John Laskaris
Treasurer - Peter Kouklamedes
Secretary - Rosemarie (Posie) Pappas
Financial Secretary - Currently Vacant
CATECHETICAL (SUNDAY) SCHOOL UPDATE
Our Sunday School classes will be taught by:
Pre-K, K & 1st Grade
Grades 2-5 (Connie Monsma)
Grades 6-8 (Evi Deslis)
High School
A sign-up sheet for teachers will be available after Liturgy. Please contact Jodie Reams to volunteer to help out with teaching our youth!
STEWARDSHIP
If you have not yet offered your Stewardship this year, we humbly ask that you bring your Stewardship Card with you to church and offer it to God as your commitment 2018.
Please pray and ask God to guide your heart as you make your pledge for the upcoming year. Your offerings make possible the work of the Church and pay for our operational costs and our mortgage. We need everyone's help to support our Churc
READER'S MINISTRY
We will have a sign up sheet in the Narthex for those in our community who would like to learn to read/intone the Epistle, in either Greek or English. Please contact Church office to sign up!
PROSFORA MINISTRY
We are in need of prosfora bakers! Please sign up for a Sunday to provide the prosforo for our parish. If you would like to learn to bake prosfora, please contact Church office to arrange a lesson.
GREEK SCHOOL
Contact Connie Monsma if interested in helping
promote greek school classes.
2018 ST. JOHN CHRYSOSTOM ORATORICAL FESTIVAL
Topics, Tips & Resources are now available!
Introduced in 1983, the St. John Chrysostom Oratorical Festival provides Greek Orthodox teenagers the opportunity to write and talk about their faith. The Oratorical Festival Program begins at the parish level and is divided into three divisions:
Elementary Division (local festival only) for students in grades 4–6
Junior Division for students in grades 7–9
Senior Division for student in grades 10–12
For more information, please see Chairperson Maggy Tsouchlis or Church office.

Bible Study
Please check with Church office for scheduling of Bible Studies.
Enhancing our Liturgical Life:
St. John's offers Saturday Evening Vespers at 5:00 pm. Great Vespers are not performed during the Summer. TBA.
This beautiful worship service marks the beginning of the 'Lord's Day' with the setting of the sun, and sets our hearts on a path of prayer and preparation for the coming of the Divine Liturgy which follows after the 'Son' rises!
Services Schedule
We encourage you to attend services with us each Sunday:
Orthros and Divine Liturgy 9 AM - 11:15 AM
Youth Sunday School begins after Holy Communion.
Join us after services for our Agape Hour where we would love to meet you!
With fear of God, faith and love, draw near!
Sunday Services: Orthros 9 am, Divine Liturgy 10 am
Chuch Phone: 772-546-8180 or contact Mary Parasco at 772-214-7729
Please contact Connie Monsma for Sunday School at 772-263-6764
---

View our online weekly parish bulletin

Shop the Orthodox Marketplace

Share the Orthodox Christian Faith with an Iconogram